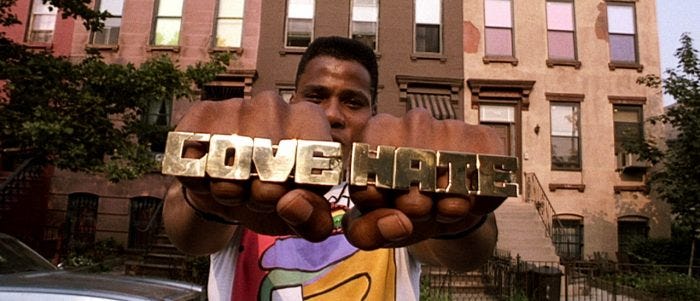 Happy Thursday!
Today's movie is Do the Right Thing (1989)—available to rent for free on Prime Video and Apple TV for the rest of the month. This Brooklyn-set dramedy is what catapulted director Spike Lee from rising star to one of the most revered filmmakers in Hollywood. The movie was egregiously snubbed from most Oscar categories—though it did receive two nominations for Best Supporting Actor and Best Original Screenplay. Lee would finally win his first Oscar in 2018 for Best Adapted Screenplay for BlacKkKlansman.
Here's what it's about: It's the hottest day of Summer in a Brooklyn neighborhood where the local pizzeria owned by Sal (Danny Aiello) becomes the center of controversy and tensions begin to boil over. [Trailer // 120 mins]
Why you should watch it: Do the Right Thing is so much larger than its Bed-Stuy, Brooklyn setting. That small slice of street acts as a microcosm for the entire racial system in America—one that is still at work and even more prevalent today. And while we often see the fallout of racial tensions, Do the Right Thing shows the supposed mundanity that causes tempers to boil over.
However, as with all of Lee's work, it's the empathy you have for the characters that truly drives the message. Every action from every character—from Mookie (who Lee plays himself) and boombox toting Radio Raheem (Bill Nunn) to neighborhood fixture Da Mayor (Ossie Davis) and Sal (Danny Aiello), who owns the pizzeria Mookie works at—is explained and justified. Our current political state isn't an accident, it's decades and centuries of oppression. Do the Right Thing breezily explains why things are the way they are. More importantly, it explains how to fix them.
📺 Rent for Free: Prime Video | Apple TV
---
Pair it with 🍷
Tangerine: It's Christmas Eve in Tinseltown and Sin-Dee (Kitana Kiki Rodriguez) is back on the block. Upon hearing that her pimp boyfriend hasn't been faithful during the 28 days she was locked up, the working girl and her best friend, Alexandra (Mya Taylor), embark on a mission to get to the bottom of the scandalous rumor. [Where to watch]

Malcolm X: This movie follows the eponymous man (Denzel Washington) from his poor childhood to his young adulthood that eventually led him to prison and finding his faith as a Black Muslim before becoming the civil rights activist we know today. [Where to watch]
---
You're doing great, New York! Keep it up. Stay safe, take care of your loved ones and yourself.
See you Thursday —
Karl (@karl_delo)
📽 Looking for something to watch? You can see every movie I've ever recommended right here.
🍅 I'm also a Tomatometer-approved critic on Rotten Tomatoes! You can find all my reviews here.