Plus, a guide to HBO Max.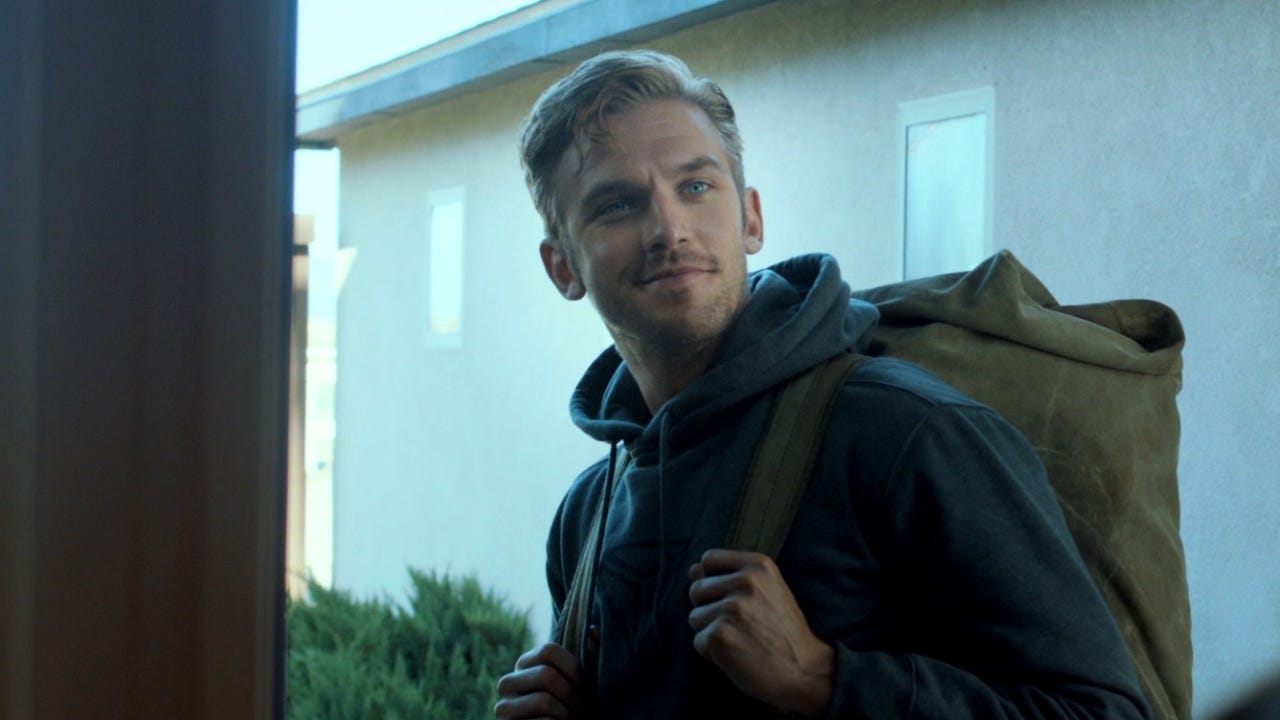 Happy Thursday!
Today's movie is The Guest (2014)—streaming on Netflix. This thriller—with a dose of dark comedy—was directed by Adam Wingard and starred Dan Stevens, following up his stint on Downton Abbey, and Maika Monroe. This role would be one of two—It Follows is the other—that would make Monroe one of the modern-day scream queens.
Here's what it's about: After soldier David (Stevens) appears on the Peterson family's doorstep claiming to be a friend of their son Caleb who died in combat, weird incidents begin to happen around town. Caleb's sister Anna (Monroe) suspects it has to do with David's presence. Little does she know that he is more than a pleasant house guest. [Trailer // 100 mins]
Why you should watch it: The Guest is that rare amalgamation of genres and tones that actually work harmoniously to create something entirely different. Finding the precise intersection of suspense, mystery, action, horror, and even comedy, Wingard is able to create a retro-like atmosphere that is intense but devilishly entertaining to watch—Steve Moore's synth-infused 80s-inspired score is egregiously underrated.
Paced to perfection and plotted just the same, it moves and holds your interests even when it makes its big shifts in tone. Largely that's to the credit of Stevens' performance that balances a movie star charm with terrifying stoicism—Southern charm has never been so horrifying.
📺 Buy or Rent: Prime Video | YouTube
---
Pair it with 🍷
You're Next: A family gathered for a small reunion in their isolated forest vacation home is horrified when they come under attack by a group of home invaders donning animal masks. Thankfully, Erin (Sharni Vinson), who is dating one of the sons, is Australian and armed with an ax. [Where to watch]
---
Maximizing HBO Max
Let's be real, the prospect of adding another streaming service to your roster is overwhelming. HBO Max (the streaming service formerly known as HBO now but also not HBO Go) introduced even more complexity to the balancing act. So, instead of taking the plunge and paying $15 a month, here are five movies you can prioritize to maximize your 7-day free trial.
Spirited Away, one of animation master Hayao Miyazaki's masterpieces, has endured as one of the greatest animated movies of all time. This fantasy follows a young girl who finds herself trapped in the spirit world. In order to escape, she must find her courage. To date, it's the only hand-drawn film to win Best Animated Feature at the Oscars.

While Earth is getting itself together, venture into Outer Space with Stanley Kubrick's classic 2001: A Space Odessey. His magnum opus science fiction epic struggles with the relationship between man and technology, finding a medium between arresting visuals and spiritual-like intellectual quandaries. It's impossible to not find yourself lost.

Casablanca is everything you want in a classic Hollywood romance: suspense, grand romantic gestures, and an underlying romantic tension that's impossible to resist. Director Michael Curtiz finds a sense of longing between Humphrey Bogart and Ingrid Bergman that makes you believe in love, even in the face of so much adversity. A masterpiece of classic Hollywood.

There's something delightfully unhinged about Moulin Rouge! Whether it's the frenetic editing that makes the already visually overwhelming film even more of a rush or the ridiculous plot or absurd use of modern music in this 1900-set musical, it's hard to not be at least amused by it. You might come away delighted or assaulted or confused, but you can't say you weren't at least fascinated.

The Nice Guys is possibly one of my favorite comedies of the 2010s, largely thanks to an Oscar-caliber performance by Ryan Gosling and a ridiculous mustache. Laced with razor-sharp one-liners and gut-bustlingly hilarious physical comedy by Gosling, The Nice Guys is one of the most entertainingly dumb yet brilliant comedies I've seen.
---
Have a fun (and safe) Fourth of July weekend—and please wear a mask.
See you Monday —
Karl (@karl_delo)
📽 Looking for something to watch? You can see every movie I've ever recommended right here.
🍅 I'm also a Tomatometer-approved critic on Rotten Tomatoes! You can find all my reviews here.